Birthday Party – Horse Theme – Private Party Inspiration
Inspiration for a Horse Themed Girl's Birthday Party
Disclosure: Some of the links for the birthday party design below are affiliate links. At no additional cost to you, I may earn a commission if you click through and make a purchase.
My favorite part about planning private parties, especially a birthday party, is to make the event super personalized to the individual or group. I have heard from several clients that this is an area where I really go above and beyond. It's just something I naturally do but once I heard it several times I realized that maybe it is something that is unique to me and my design style. You can be guaranteed that no matter the event, I will be looking for ways to make it personalized and feel very custom.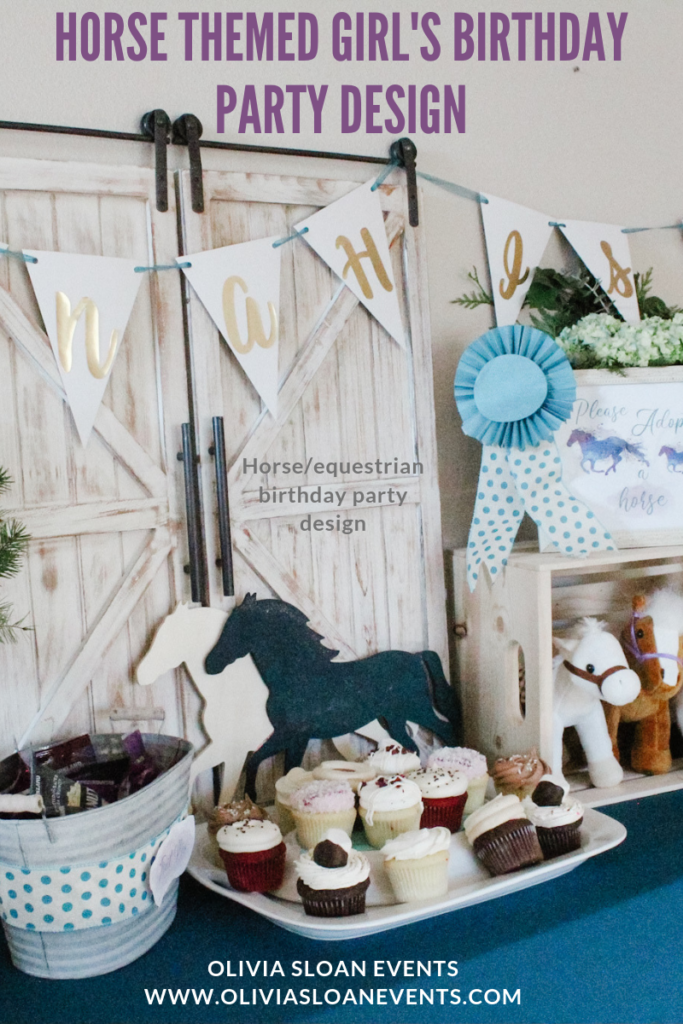 This particular birthday party was for a sweet little girl who loves horses. I started with an equestrian theme – think a little more Kentucky Derby and a little less down-on-the-farm. I definitely did not want it to cross over into a "cowgirl" them for this particular design. Turns out, it's really hard to source equestrian items that aren't crazy expensive. I had to get a little creative to work within the birthday party budget. The birthday party took place at a petting zoo which meant I ended up peddling back from the more upscale design I originally envisioned. "Horse theme" ended up being the best description I could come up with. Help me out if these photos inspire a better one! I'd love to hear it!
Color Palette
Dark teal was the primary color and I incorporated it throughout the design along with purples and blues, and touches of gold. I told a friend that I was using a dark "moody" teal for a two year old's birthday party and she laughed. I suppose I did sound a little crazy. A watercolor horse graphic also played into the inspiration. Overall, I love the outcome and think it is a good balance of what I had originally envisioned.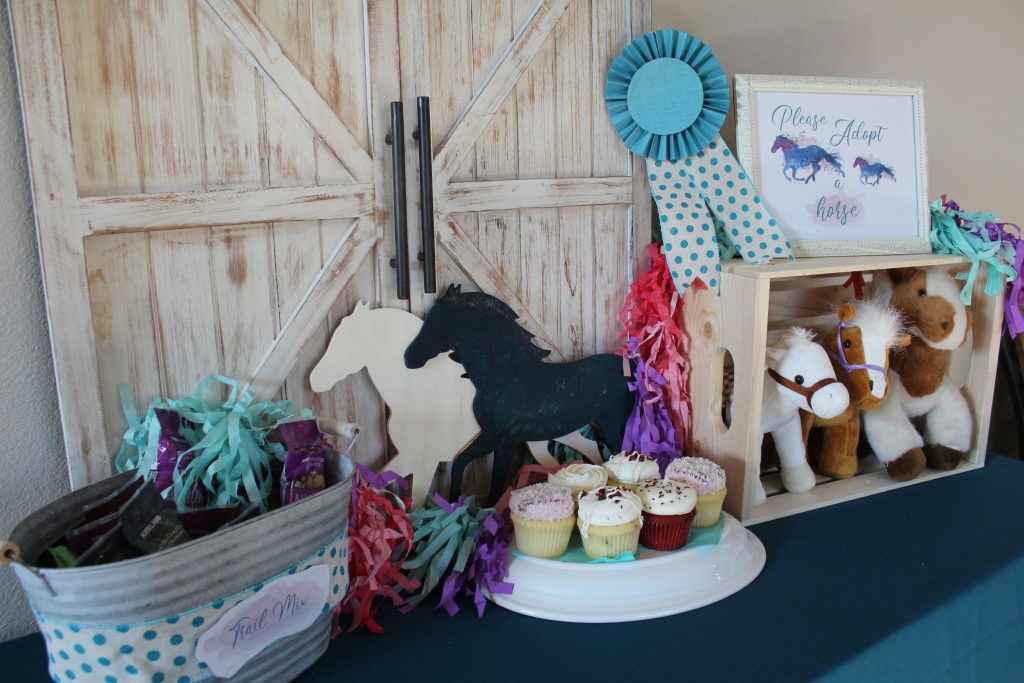 Birthday Party Invitations
I chose to design and print the invitations myself since it was a small group. I used a font from Creative Market (I love this site and they often have free fronts and packages). The specialty paper and envelopes were from Hobby Lobby. The invitations read "Two Wild" and had a watercolor look to them. They were very simple and cute, and I was happy with the result.

Balloons
Don't hate me for saying this, but I used to think that balloons were a little tacky for events. They made me think of 80's balloon arches in pastel colors. However, the balloon game has majorly stepped up and there are beautiful balloon garlands, kits, and even companies who do custom installs that are amazing. Call me a convert, but now I'm totally good with balloons.
That said, I couldn't pass up on balloons for this birthday party. I did have a little bit of planning anxiety since this happened to occur during the helium shortage. I wasn't sure if I would even have good quality helium for this party. It sounds silly to stress over helium, but the balloons were important! Fortunately, my party supply store came through and I also had someone's "helium guy" as a backup. (The best prices for the balloons were on Amazon: giant gold mylar balloon, mylar horse balloon, teal, purple, pink and confetti balloons)

Details & Special Touches
Some special touches for this horse themed birthday party where the customized banner, barn doors, party favors, and themed snacks.
I tried a couple different displays – one true to the original color palette and one with more color. I like them both, but ended up sticking to the original palette for party time.  Which one do you like better?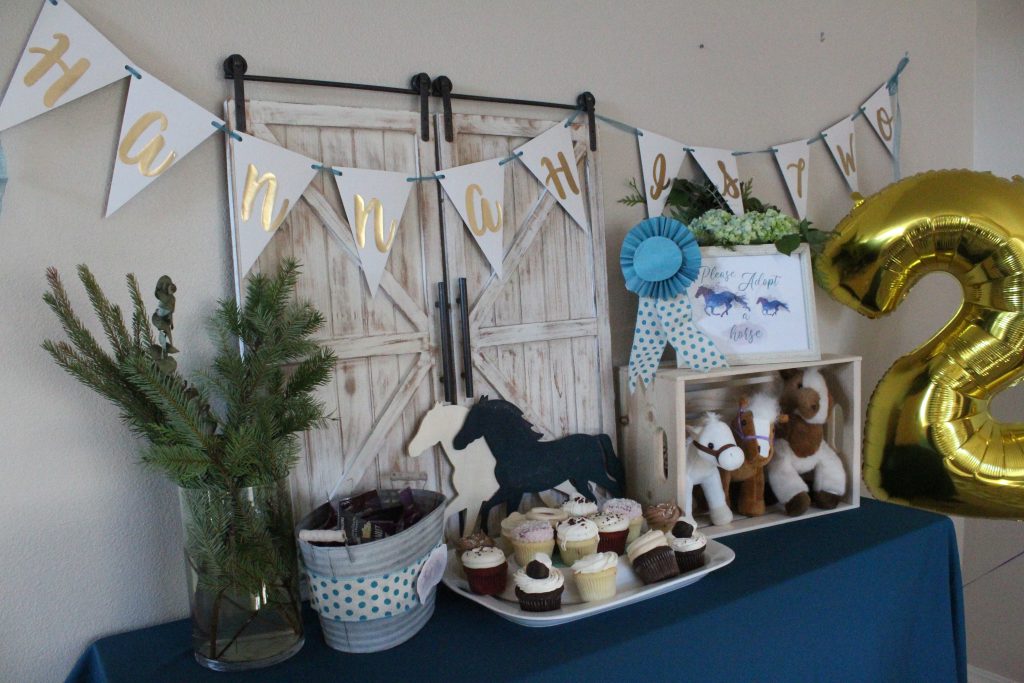 Food and Beverage
Since the birthday party was not during a meal period and was held at a petting zoo, we did not want to serve a large meal. We had most items packaged or easy to grab-and-go, and also healthy. We served "trail mix", "horse nibbles" (veggies w/ ranch in individual cups), chips, and of course, birthday cake. Beverages were bottled water, juice boxes, and some canned soda and LaCroix for the adults. To accommodate for a gluten free guest, I ordered separate gluten free cupcakes from a local bakery (Wanna Cupcake? In Puyallup) and had them ready to go for cake time.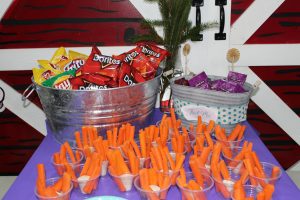 Birthday Party Favors
The party favors were my favorite part and the biggest hit with the kiddos. We set up an "Adopt a Horse" barn in a wooden crate. I found the plush horses on Amazon and liked that there were different colors so the kids could pick which one they wanted. Every child left with a special gift that they would hopefully enjoy for more than just that day. Their parents appreciated that we didn't send them home with a bag of candy and impending sugar high.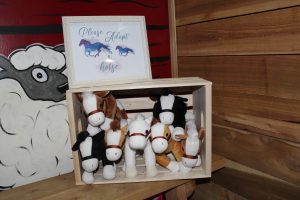 Stores and Supplies
I found most of the supplies at Hobby Lobby (decor), Amazon (plush horse party favors, table linens, gold 2 balloon, and miscellaneous decor), and Party City (balloons, food & beverage supplies). Make sure when you go to Hobby Lobby to use their daily 40% off coupon! I also have galvanized buckets that are in my inventory since I use them so much. I got them from a legit feed store like Tractor Supply. They have worked great and never leak!

This birthday party was so much fun to plan
How can you not be happy seeing the joy on a two year old's beaming face?! I put so much love and time into every event, even if it means stressing over helium and a color palettes. Every detail matters and helps make the memories that will last forever. I hope the sweet little birthday girl looks back at pictures of her party when she is older and knows how special that day was when everyone was there to celebrate her!
If you are in the Greater Seattle area and want to connect with me about your next private party, or just want to talk ideas and tell me what you thought of this birthday party, I'd love to hear from you!