How to: Wedding Invitations in 5 Steps with Basic Invite
I love wedding invitations, and all wedding stationery, because it sets the tone of your wedding for your guests, communicates a lot of important information, and is a super fun way to show your unique wedding style.
I teamed up with Basic Invite to share some tips to help you choose the right wedding stationery that perfectly matches your vibe. Basic Invite offers everything you need from a wedding invitation card to bridal shower invitations to thank you cards.
Here are the 5 steps to choose your wedding invitations 
Step 1: Decide on your Invitation Budget and Timeline
This one is pretty simple – you'll need to know how much you can spend on wedding invitations (don't forget postage!) and how much time you have before you need to send them out.  This may or may not narrow down some of your options.  If you need help creating your wedding budget, check out my previous blog posts.
It's very common to send out a save the date for a wedding, so remember to add in budget and time for that step. This is also a good time to get your wedding website set up so you can add the URL to your save the date card.
When to send out wedding invitations: Generally, you send wedding invitations 6-8 weeks prior for a local wedding and 12 weeks for a destination wedding. For your RSVP date, be sure to backwards plan from your vendor deadlines. Make sure you're getting RSVPs back at the very least one week before your final catering or other guest counts are due, if not earlier. 
Step 2: Choose your Style/Colors and Level of Formality
Your wedding invitations set the tone for your wedding.  This can be communicated through both the design you choose and how you word the invitation.  Try to have your invitation somehow reflect what guests could expect for your wedding day either in location/setting or design: romantic, casual, beachy, upscale, rustic, minimalist, etc.. However you describe your wedding, try to find an invitation design that makes you feel that way because chances are it will translate through to your guests.  
By far my favorite feature of Basic Invite is that they offer almost unlimited color options.  I'm not just talking about changing the font color – you can change the color of each element on the card. Yes – I'm serious! No more scouring a wedding invitation website to find the premade design that sort of matches your style – you can choose whatever design you like best and customize it to YOUR wedding with 180 color options.
If you're going with moody colors for your wedding, this is a great example:
If you're planning on a formal and upscale occasion, consider a design with classic cursive, monogram, or other elements that reflect your wedding design.
Or here is a beautiful and simple minimal design:
Step 3:  Choose your wedding invitation wording
There is a lot of etiquette involved in how you word your wedding invitations that I won't delve into now, but here is a link to a full guide if you need it for both casual and formal weddings.  I strongly recommend taking the time to get the wording right, triple check spellings, and run it by everyone involved in hosting the event as well.
Step 4: Order Samples
I think this step is pretty fun!  Basic Invite is one of the few websites I'm aware of that lets you order a sample of your actual invitation before you place your final order, so you can be sure that it is perfect.
My encouragement for you is to start looking at your options early so you have time to order samples and make edits if needed. It really makes a difference to hold your invitation in your hand and make sure it is exactly what you want.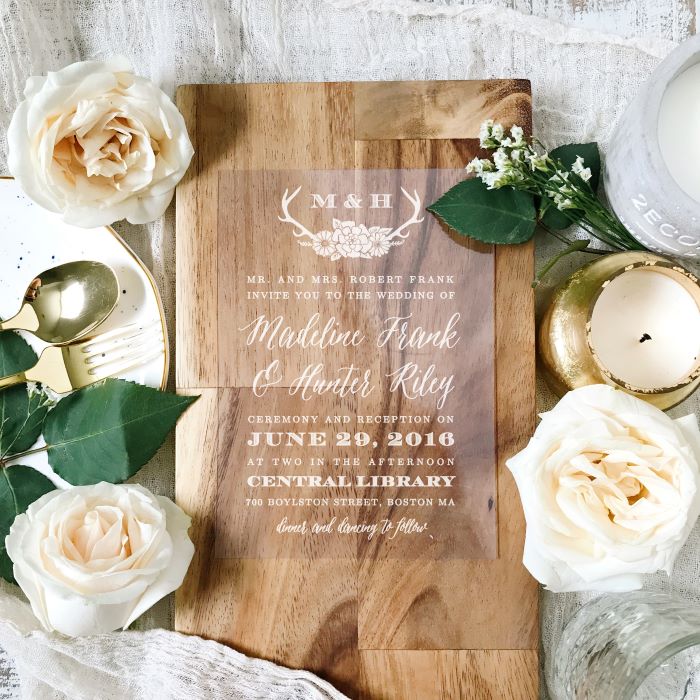 Step 5: Finalize Your Order, Addresses, and Send!
You made it to the end! …or not quite.
One final task that can take up a lot of precious wedding planning time is finalizing the address list.  Basic Invite thought of this, too, and offers an address capturing service that allows you to share a link on Facebook, Twitter, Instagram, or any other social media to request your friends and family's addresses. The addresses are stored in your account and can be selected during the design process.  BONUS – Basic Invite offers free recipient address printing on all card orders.
I'd love to hear if these tips were helpful, and if you're going to give Basic Invite a try. I personally am excited to use them for my family Christmas cards this year.  Right now you can get 15% off with coupon code: 15FF51 
As always, I'm here to help and happy to answer all of your wedding and event planning questions.
Happy planning!
Olivia